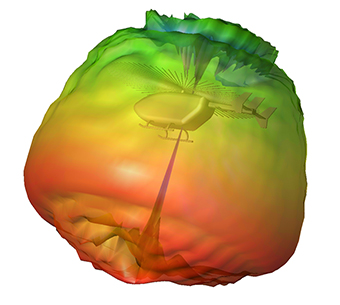 Simulated RF Performance
Without knowing the specific coverage area and gain a given design will provide, there is no way of knowing if the hardware is going to meet the technical requirements of the customer.
At Haigh-Farr, we understand this over-arching
principal
of antenna
design,
and employ a variety of techniques to assure your hardware meets your pattern coverage and gain. We use both commercially available products, as well as in-house proprietary tools, to model exactly how our antennas will perform when mounted on your vehicle and used in your environment. Haigh-Farr simulations take into account specific vehicle geometries and co-site objects, such as fins of a missile or blades of a helicopter.
What does this mean for our customer? By doing simulation work up front, we reduce the costs of actual hardware production and test. Moreover, our expertise in modeling both pattern efficiency and antenna placement, allows us to consult with you on hardware placement and quantity needed to realize the desired gain. With this in mind, let Haigh-Farr help you find the right antenna with the right pattern for your application.